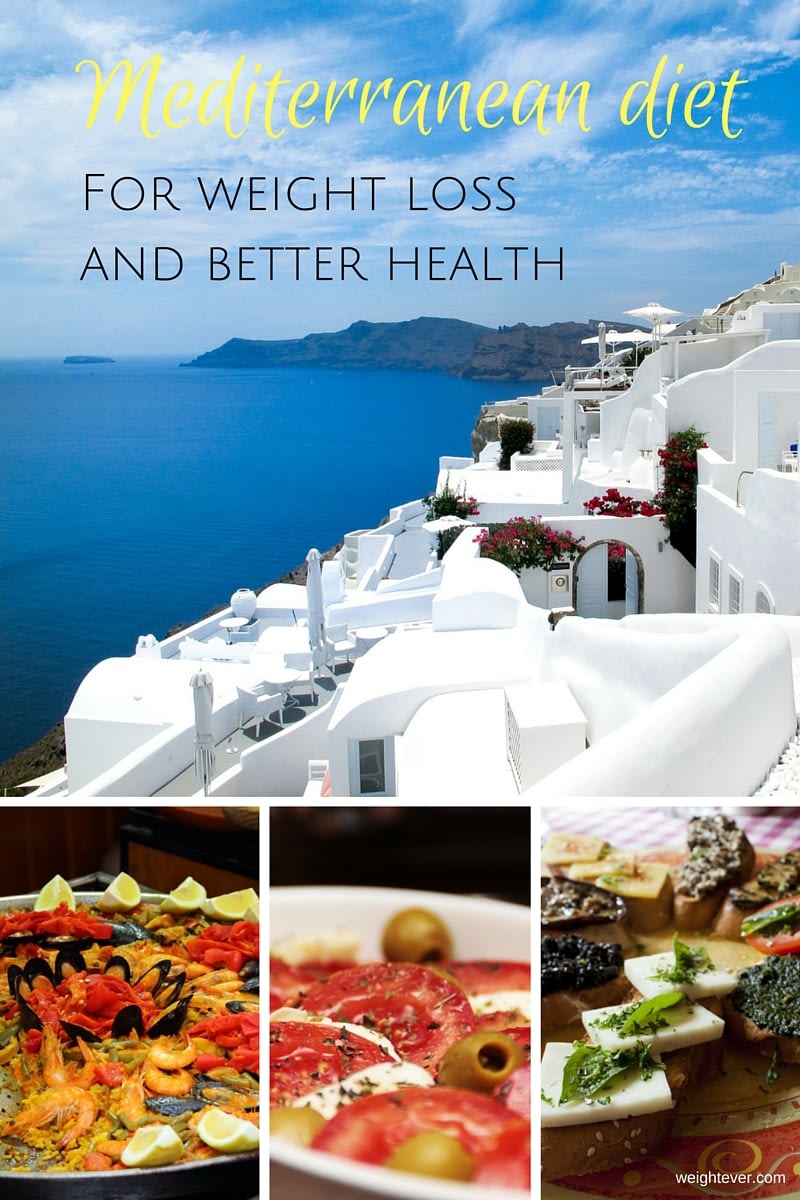 I've been really interested in Mediterranean diet for a while now. We've all heard about the benefits of a Mediterranean diet. But what is this diet really all about?
What is Mediterranean diet?
Mediterranean is such a large area with lots of countries and cuisines. There are more than 20 countries with coastlines on the Mediterranean Sea. However, when it comes to food culture and nutrition these countries have a lot in common.
The concept of Mediterranean diet was first introduced in the 1970s but it didn't really become popular until the 1990s. The Mediterranean diet was somewhat revolutionary when it was released. At the time everyone seemed to agree that the reason we get fat is because we eat too much fat. The Mediterranean diet has quite a lot of healthy fats, and today we know that they really are healthy.
Mediterranean diet – or rather Mediterranean lifestyle – is all about foods and cooking methods that are typical to the countries around the Mediterranean Sea. The diet focuses on plant based foods, varied animal and plant proteins, plenty of healthy fats and moderate amounts of red wine (optional). Here's what the Mediterranean food pyramid looks like: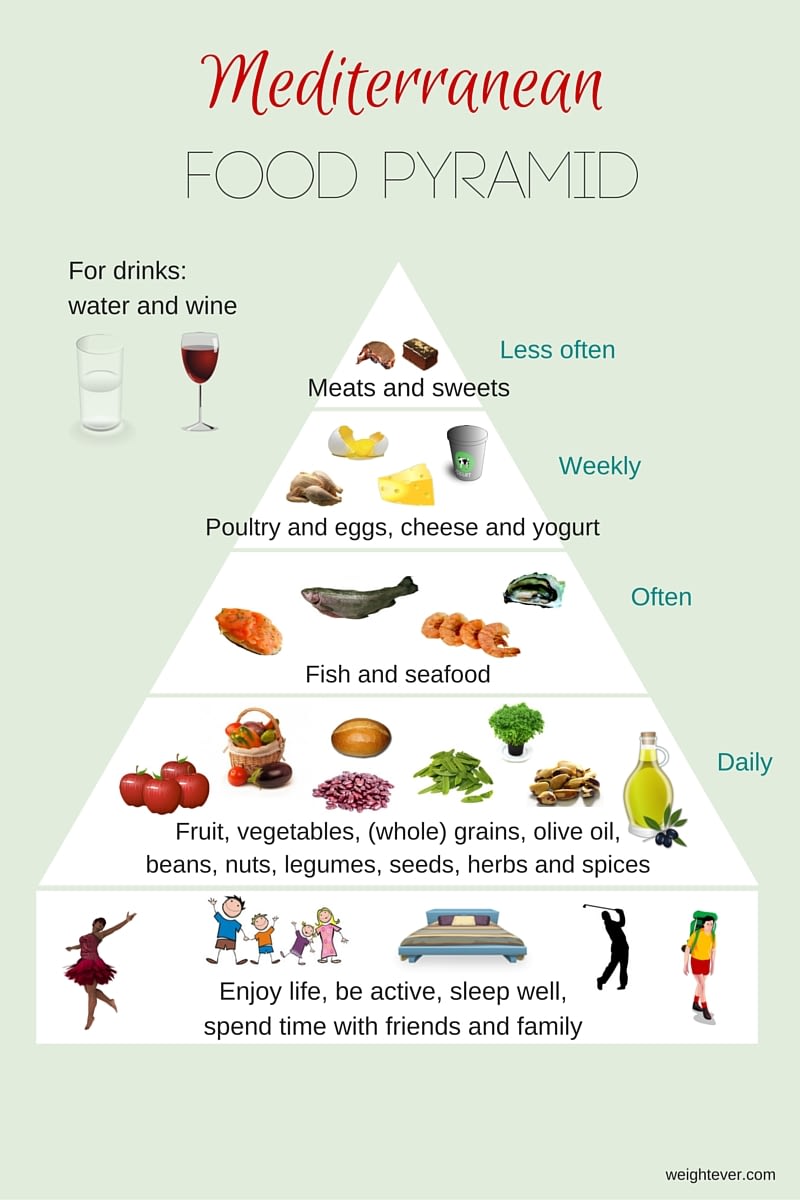 Mediterranean diet benefits
There has been a lot of research on Mediterranean diet. Here are some of the health benefits of the diet. The Mediterranean diet:
reduces the risk of heart disease and stroke by 30 percent
prevents and helps fight certain types of cancer
reduces incidence of Parkinson's and Alzheimer's diseases
reduces risk of depression
reduces levels of inflammation
lowers risk of diabetes
good for weight loss: this diet will help you lose weight and/or maintain weight – see Mediterranean diet success stories
In addition to this Mediterranean diet is delicious and healthy. It's easy for the entire family to follow this diet so you don't have to cook separate meals for yourself.
How you can make your diet more Mediterranean
Do you want to try Mediterranean diet? Here's what you can do:
Eat a lot of vegetables and fruits, make them the base of your diet by having some on every meal
Eat more nuts, seeds and legumes
Switch to whole grains
Have a handful of nuts a day
Eat your bread plain or dip it to olive oil
Eat less red meat and add more poultry, fish and eggs
When you do eat red meat, choose lean cuts and have smaller portions
Try fatty fish such as mackerel, sardines, and salmon in order to get omega-3 fatty acids
Use extra virgin olive oil, lots of it
Eat olives, avocados and nuts for healthy fats
Have fresh fruit for dessert and keep them around you at work for healthy snacks
Eat less processed food
Prepare your own food
Have a glass of red wine with your meal (optional)
Flavor your food with herbs and spices
Eat according to season to make sure you get fresh and nutrient packed ingredients
Avoid added sugar, have some only on special occasions
Coffee and tea are fine but avoid sugary beverages.
There are also other (non-food related) elements to Mediterranean lifestyle that you could incorporate:
Make the dinner a relaxed family get-together
Be active, get plenty of exercise and fresh air
Enjoy life and try to lower stress levels
A typical day on Mediterranean diet meal plan would be something like this:
Breakfast
Omelette with spinach and wholemeal bread
Lunch
A Greek salad
Try this authentic Greek salad recipe by Little cooking tips. Serve it with this Greek salad dressing by Danielle M. in Allrecipes (if the dressing is too tangy for your taste, use a little less vinegar). Read more on how to make a salad.
Dinner
Grilled salmon with fresh herbs and vegetables
A class of red wine
Evening snack
An apple and a handful of mixed nuts
Mediterranean diet is full of absolutely delicious diet recipes to try!
Shopping list for foods on Mediterranean diet
Here's a Mediterranean diet food list with some key ingredients. Print it out and take it with you when you go shopping: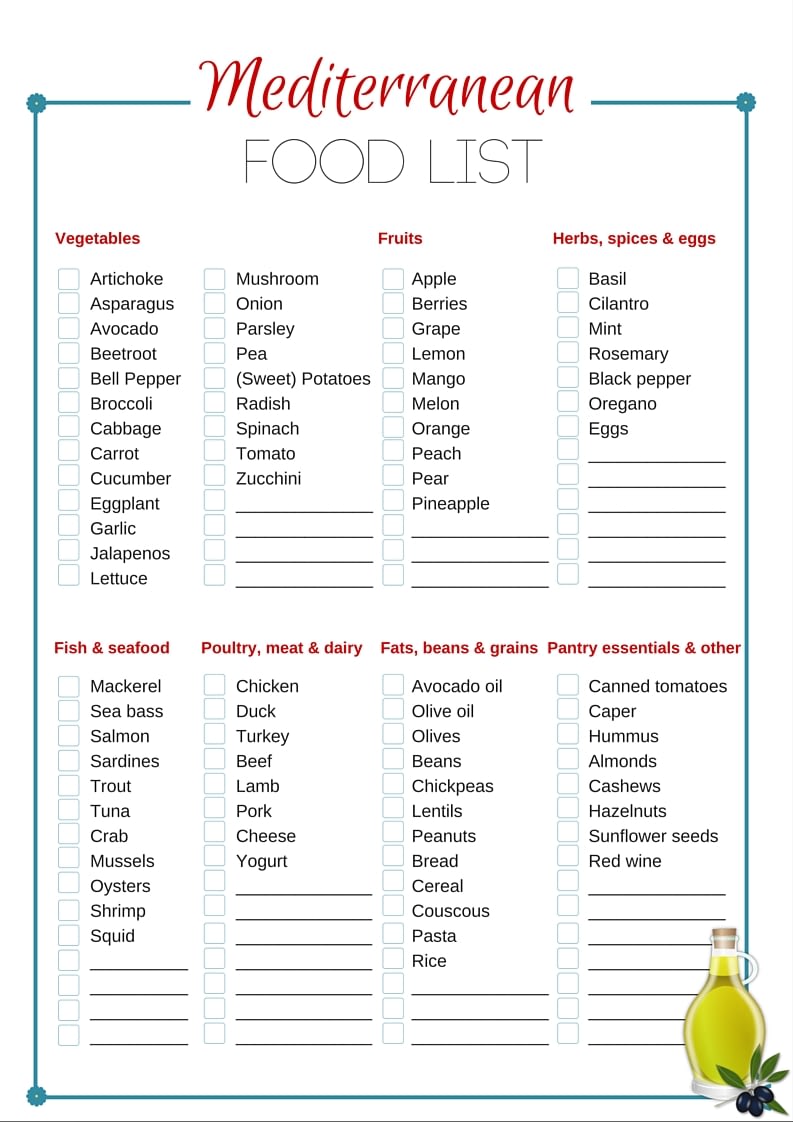 Mediterranean diet and other diets
Calorie counting and Weight Watchers
Counting calories or Weight Watchers points and following Mediterranean diet might be difficult simultaneously. This is because calorie or point counting "penalizes" consuming fats so heavily and healthy fats are an important part of Mediterranean diet. If you decide to follow the Mediterranean diet it might be a good idea to do it for at least a month and to forget about the calories and points for this time period.
Paleo
Paleo (paleo, primal, Whole30) and Mediterranean diet do not necessarily rule each other out, they actually have quite a lot in common. You just have to make small changes by leaving out the grains and legumes. Primal diet even allows moderate amounts of red wine and dairy if your body reacts well to them. Both Mediterranean diet and paleo diets encourage us to avoid processed food and to prepare food from natural ingredients.
Have you tried Mediterranean diet?
Save
Save
Save